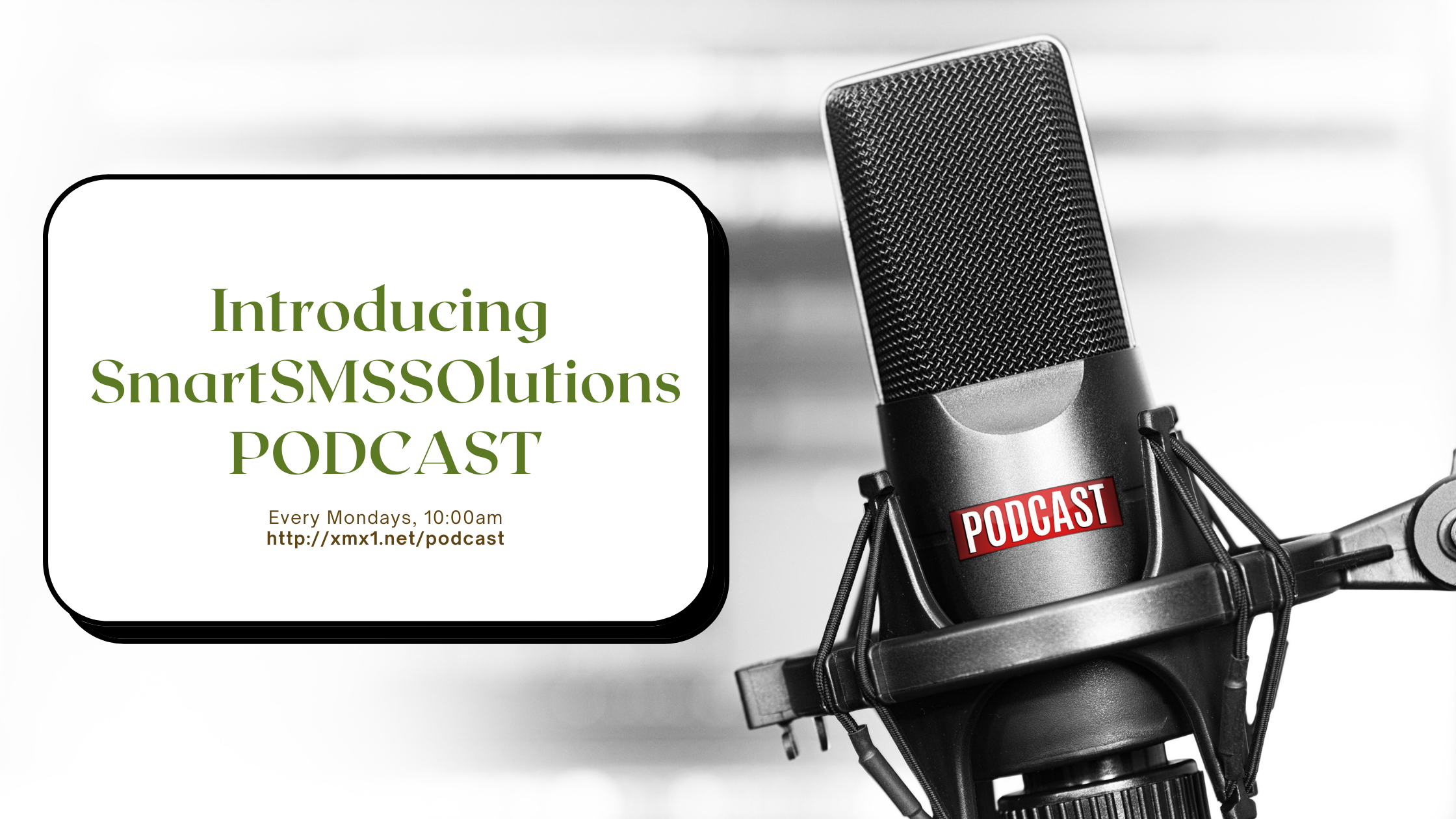 Imagine having a platform where you get all your questions about bulk SMS and SmartSMSSolutions answered in detail every week.
Imagine being able to refer to recorded audio that addresses a particular issue you have with SMS service without having to call with your airtime.
Can you also imagine having a place where you can get all the support, help, and tips you need to get your business scaled up from the bottom right to the top?
Now stop imagining. Because that platform is here now.
All of us at SmartSMSSolutions are so excited to inform you of our new Podcast platform, the very first of its kind as far as the bulk SMS industry is concerned.
No surprises actually. We are SmartSMSSolutions, and we always set the pace.
Why Podcast for SmartSMSSolutions
The decision to start a podcast program on SmartSMSSolutions is a no-brainer.
This is because here at SmartSMSSolutions, we are always focused on solutions and nothing more.
Because of this, we invest a lot in customer service, making sure you get all the support you need to enjoy your ride with us.
For a while now, we have been providing content support by way of Blog articles, Email marketing, Youtube Videos, and of course our social media platforms.
However, the marketing team at SmartSMSSolutions decided it is high time we introduced a new content type to ensure you keep getting the support you need.
Podcasting was the answer.
What to Expect on SmartSMSSolutions Podcast
We have so much planned for you on our SmartSMSSolutions Podcast.
Among other things, we will be addressing frequently asked questions on bulk SMS generally and also on the use of our service.
Additionally, we will review each of our products and services, their features, and benefits, and how you can use them to improve your experience with us.
We will also share tips, tested, and trusted principles from the best in the entrepreneurship spheres, on how to grow your businesses.
More so, you would get to listen and interact with plenty of other staff of SmartSMSSolutions, including the CEO of the company, especially when there are important updates.
Now here is where it gets interesting!
We will also get your feedback, and you might get the opportunity to feature on one of our episodes.
Also, we will be having interview sessions with many of our esteemed customers to share tips on what has helped them to make the best use of SMS to grow their businesses.
How to Access the SmartSMSSolutions Podcast
The podcasts will be hosted on Anchor.FM(Powered by Spotify)
You can always access all the episodes of the podcast on http://xmx1.net/podcast.
The introduction session for the podcast has already been posted on the platform and can be accessed here: http://xmx1.net/podcastintro.
The podcast channel is also currently shared on 6 platforms where you can listen to the episodes once they are released:
Spotify

Copy RSS

Radio Public

Pocket Casts

Google Podcasts

Breaker
With time, the channel will be available on many more platforms and we will be sure to inform you.
When Can You Expect New Episodes of the Podcast
In the beginning, we will be sharing 1 podcast per week.
This podcast will be available at 10:00 AM every Monday of the week.
The very first official episode (after introduction) will air on Monday, the 5th of April, 2021.
Conclusion - Introducing SmartSMSSolutions Podcast
We are confident that this new feature on SmartSMSSolutions would go a long way in giving you the premium service and support you deserve.
Please watch the space on our blog as we update you on the new episodes of the podcast as they drop in the coming weeks.
As always, we would also appreciate your feedback on what you want us to address and how we can get better.
Use the message icon on the podcast page to send us your voice message as feedback.
We will be waiting to hear from you.